Welcome to Southview Cottages
We provide the family vacation you are looking for – full of Adventure, Relaxation, and Quality. 
Southview Cottages COVID-19 Response
The Southview Family is committed to your well-being and measures have been put in place to ensure that we continue to offer an experience that is as safe as possible for everyone. 
We are doing so by complying with all Peterborough Public Health and Public Health of Ontario recommendations.
The health and safety of our guests, staff and community are our top priority. We are keeping out staff up to date on newest procedures and implementing a communication and training strategy with our staff to ensure that everyone is practicing preventive behavior. 
Please help keep our Resort safe by staying home if:
You have had a suspected or confirmed case of COVID-19 in the last 14 days or have been in close contact with someone who has.
OR if you are experiencing any symptoms of COVID-19 including: cough, fever, respiratory problems or sudden loss of smell or taste. 
Safety Policy:
We offer contactless check-in services - please phone or email us prior to your arrival to learn more.
We are limiting the number of people allowed in the office at a time. 
Masks or face coverings are mandatory when entering our Office.
Pool is open - must be reserved at main office (9am-8pm daily)
Playground and Beach are open - social distancing applies
Waterfront sports equipment will be available by sign-out at office (9am-5pm daily) 
Life Jackets are disinfected between each use. Please bring your own if possible. 
Boat Rentals are available for 2022 bookings - all boats are disinfected between uses. 
Laundry facilities are open to one guest at a time, social distancing applies.
Fish cleaning houses are open are open to one guest at a time, social distancing applies.
During your stay:
We have increased the frequency of cleaning and disinfecting all common areas.
All cottages will be sanitized with the best virus-killing products/cleaners from top to bottom – focusing on high-touched surfaces (door handles, light switches, remotes, and all kitchen appliances/furnishings/kitchenware) 
Disinfectants and hand sanitizers are available at all common areas. 
No Visitor Policy:
As a result of Covid-19 Southview Cottages has been compelled to change our visitor policy to state that we do not allow visitors. All extra persons must be approved prior to arrival - as we do not want the cottages or resort property overcrowded. Southview Cottages Inc reserves the right to know the number of people coming to the property to ensure the safety of our guests, staff, and the community to which we operate in. All extra persons must be approved prior to arrival, and all guests are to be registered upon arrival. 
Cancellation Policy:
Have peace of mind booking with Southview Cottages during these unprecedented times. For all new bookings: If travel is not possible due to government regulations/restrictions or border closures we will offer full refunds less a 10% fee on your deposit or you can carry your deposit till a later date with $50.00 off weekly cottage rentals.
As always, please feel free to contact us by email or phone should you have any questions of concerns.
Sincerely,
The Southview Family
1-705-939-6761
Your Kawartha Lakes Escape
For nearly 70 years Southview Cottages has been catering to guests from across North America and beyond. As 3rd generation Owners/Operators we truly understand and appreciate the meaning of the Traditional Canadian Family Cottage Experience.
The Kawartha Lakes district in Ontario is the most sought-after vacation destinations in Canada – due to its beautiful scenery coupled with wonderful weather, exceptional fishing, and local attractions. Rice Lake, Ontario is an amazing spot for your next family cottage rental.
Southview Cottages has an outstanding piece of property. We have over 1800 feet of shoreline and 50 acres of scenic countryside on the North shore of Rice Lake. All of our cottages are on the waters edge viewing 6 lush islands and breath-taking sunrises.
We offer many Recreational Activities for all ages – to keep everyone in the family entertained.
We pride ourselves on the cleanliness of our property and cottages. We promise you will not forget your time here and want to visit year after year.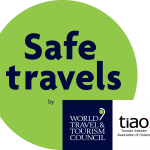 Southview Cottages has been awarded a #SafeTravels Stamp, which is recognized globally for adopting proper standardized health and hygiene protocols. 
Southview Cottages is located on Rice Lake just 90 minutes away from Toronto. Your Kawartha Lakes Cottage rental awaits you!