Southview Cottages COVID-19 Response
WE ARE OPENING JUNE 19th, 2020!
The Southview Family is delighted to share the news that now we can officially open!
New for 2020:
We are limiting the number of people allowed in the office at a time - only 4 people maximum. When you arrive, we ask only one person comes into the office and checks in.
The pool is heated and open! 12 persons maximum.
Playground will be closed until further notice – this is a provincial order, applied across Ontario.
The beach will be open, and guests are asked to social distance from other people not in their immediate family.
We are encouraging all guests that are renting boats or want to take out any water equipment to bring their own life jackets or rental life jackets will be available that have been disinfected between uses.
Laundry facilities will be open, social distancing applies.
Fish cleaning houses will be open, social distancing applies.
During your stay:
Increasing our cleaning procedures and increasing the frequency of disinfecting all common areas.
All cottages will be sanitized with the best virus-killing products/cleaners – focusing on high-touched surfaces (door handles, light switches, remotes, and all kitchen appliances/furnishings/Kitchenware)
All Water and sport equipment will be disinfected between uses.
All Rental Boats will also be disinfected between uses.
 Keeping our staff up to date on newest procedures and implementing a communication and training strategy with our staff to ensure that everyone is practicing preventive behavior.
After you make a reservation:
Southview Cottages has adapted our Cancellation Policy over the last few weeks to the evolving nature of this pandemic. We have updated our policy to provide our customers with the most flexibility we can offer during these challenging times.
Due to the possibility that current travel restrictions may be extended into the summer; we plan on using the following cancellation policy for all 2020 deposits:
Deposit Policy:
A deposit of $600.00 per week and $300.00 per weekend/midweek is required to reserve cottages.
Cancellation Policy:
A full refund up to one week prior to arrival, less a 10% charge to cover our costs; within a week of arrival deposits will be refunded less a 50% cancellation fee.
OR push your reservation till later in 2020 or 2021. We will honor your full deposit and give you a discount of $100.00 off your weekly cottage rental and $50.00 off your weekend/midweek stay should have to push your booking till later in the year or till 2021.
As always, please feel free to contact us by email or phone should you have any questions of concerns.
Sincerely,
The Southview Family
1-705-939-6761
2 Bedroom Lakefront (1 - 4 persons)
This 4-person cottage features a private lakefront deck. 
We have many 2-bedroom Lakefront cottages with different layouts.
All cottages come with:
Fully equipped kitchen with stove, oven, microwave, toaster and everything to cook and eat with.
Living area with a TV
Sofa that pulls out
3 or 4-piece bathroom
Air-conditioning
Gas BBQ
Deposit and Cancellation Policy
A deposit of $600.00 per week and $300.00 per weekend/midweek is required to reserve cottages.
Deposit will be refunded less a cancellation fee of $150.00 if cancelled 30 days prior to arrival. Within 30 days of arrival deposit is non-refundable.
Applicable tax is extra. Prices are subject to change.
WEEKLY: Check-in Saturday at 3:00 pm – Check-out Friday by 11:00 am
WEEKENDS: ONLY AVAILABLE June 26th, July 3rd, August 28th, all of September and October Check-in Friday at 3pm Check-out Sunday by 3pm
MIDWEEK: ONLY AVAILABLE arriving August 24th or 25th stay 3 nights Check In 1:00pm • Check Out 9:00am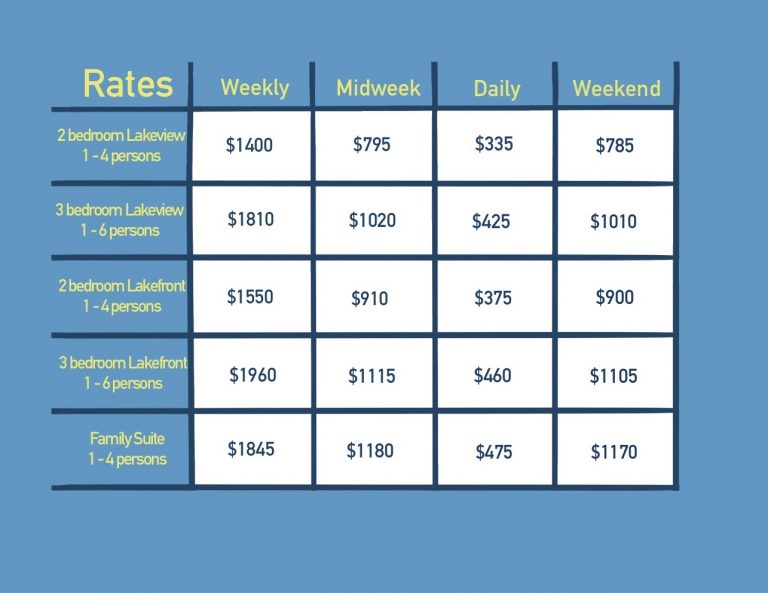 Please remember to bring:
All your bed linen, blankets and pillowcases (or rent from us)
Towels for the pool and shower (or rent from us)
All toiletries
Dish soap, and everything to wash and dry the dishes
Please fill out our form below to check availability:
Or phone us at 705-939-6761 our reservation desk is open daily.
Extra person/visitor charge is $100/day and $350/week.
• Extra person/visitor must be approved before arrival.
• All visitors must register at the office.
• No subletting of cottages or marina equipment.
• No adjustments for late arrivals or early departure.
Limited pet-friendly cottages.
All pets must be approved upon booking. A charge of $100/day and $350/week.
Balance payable on arrival by VISA, MASTERCARD, DISCOVER, AMEX, DEBIT CARD & CASH.